Discover extraordinary technical career opportunities across the United Kingdom, Asia and the Middle East.
Fuel for thought
As the age of newly manufactured combustion engines seems to be nearing their close, we must ask ourselves, how are technicians placed? Despite the influx of Electric Vehicles to market, we must remember that the countries banning the sales of new combustion engine cars are not prohibiting their existence; so, brands will still need to service and repair them.
Traditionally, technicians gain relevant certificates and further develop their skillset at dealer groups, manufacturers or independent garages. However, will the age of alternative energy vehicles force a shift in what new and existing technicians are taught? Will some technicians specialise in EV's and some in combustion engine cars? Will some brands only focus on electric vehicle technicians? Will all new technicians be taught to deal with Petrol and Diesel vehicles?
We have live opportunities ambitious, qualified technical experts, such as:
Audi Service Technician
BMW Technician
Ferrari Technical Expert
Mercedes-Benz Systems Technician
Land Rover Level III Technician
Porsche Silver Technician
Audi Qualified Technician
BMW Senior Technician
Lamborghini Technical Expert
Mercedes-Benz Diagnostic Technician
Land Rover Level IV Technician
Porsche Gold Technician
Audi Master Technician
BMW Master Technician
Land Rover Level I Technician
Land Rover Level II Technician
Porsche Bronze Technician
Porsche Platinum Technician
View current technical roles here
Audi
The Audi E-Tron is the best-selling all electric-premium SUV in Europe. At the pinnacle of design and engineering innovation, the Brand hopes to capture different areas of the automotive sector by planning to have over 20 all-electric models in its line-up. By 2026, Audi aims to eliminate the production of non-electric cars.
Bentley Motor Cars
Unlike other brands, Bentley does not currently offer any EV or Hybrid variants to their models. However, with their famous W12 engine still fuelling the fantasies of petrolheads worldwide, there seems not to be an immediate need for them. In markets such as the UK, new combustion engine cars are banned from sale from 2030 and Bentley plan to roll out their EV offering by 2025.
Sustainable investment has secured the future of their EV model from their Crewe plant in the UK. The impact of the Crewe plant investment means an immediate and long-term need for both manufacturer and dealer-based technicians.
BMW
To deliver 2 million EV's to customers by 2025, having just passed the 1 million mark, BMW continues to build on the success of the i3 and i8. The Group continues to increase in popularity and benefit from the success of its city focussed Mini EV's, and BMW themselves have recently introduced the iX. Continued innovation from the BMW Group creates more opportunities for their technicians to rise in seniority through increased specialisms.
Ferrari
Tuning the combustion engine and battery eras to encompass Brand values, Ferrari poses a unique offering to its specialist technicians. Ferrari encourages innovation from the 275 GTB to the SF90 while staying true to its thoroughbred racing heritage. New cars will still house the V8 and V12 engine variants for the short term. Still, one suspects that brands such as Ferrari will move into the Hybrid and EV era in the longer term but continue to call on expert technicians as their product offerings increase.
Mercedes-Benz
Committing over $40billion to their development of Electric Vehicles, Mercedes continues to innovate under their pledge of becoming an "all-electric" manufacturer by 2030. Mercedes have already become a carbon-neutral passenger car producer thanks to their early adoption of flexible manufacturing.
Kickstarting their foray into EV's, the successful launches of the EQA and EQS focus on daily usability. With an advertised range of up to 260 miles, rapid charging technology has been introduced to place them firmly against their more established EV counterparts. However, Mercedes AMG continues to innovate in the combustion engine market, most recently releasing the AMG GT Black Series. With their most powerful V8 engine to date, Mercedes captivate the OPF-era of sports cars.
Automobili Lamborghini
Following the Urus's success as Lamborghini's most sold vehicle, Lamborghini has made their intention to continue manufacturing combustion engine vehicles for the appropriate markets. Despite introducing the Hybrid/V12 Sian, the Brand continues to challenge the market with its more traditional offerings.
A limited-series vehicle, the Sian is an insight into the creative minds at Lamborghini. With heavily ratified rumours of a more-available V12 Plug-in Aventador replacement on the way, the Brand is on the hunt for qualified technicians.
Land Rover
As the new Range Rover begins its customer rollout, we have seen JLR introduce plug-in hybrids. From the Evoque to the Autobiography, the Group plans to increase factory output despite current semiconductor and other supply-chain linked shortages. Alongside EV's, JLR has made no secret of their interest in Hydrogen-powered cars, primarily the Defender. Whilst the range expands, we expect further demand for competent, customer-focused technicians.
Porsche
The 911 reputation continues to flourish; World Performance Car Winner of 2021, the Turbo S has continued to captivate the hearts of petrolheads globally. From the 718 Cayman to the newly released GT3, Porsche seems to do no wrong, and with the growing popularity of the Cayenne Turbo, Porsche goes head-to-head with market leaders in the performance SUV Sector.
The popularity of the Taycan continues to soar. Unmistakable Porsche DNA in an efficient and sustainable sports saloon, the Brand have expressed their will to invest in the brightest talent to implement industry-leading technology into their vehicles.
How can you make your CV stand out to potential employers? There are a few guidelines to follow that can help your CV shine. Better still, a winning CV may encourage employers to contact you about job opportunities.
In this article, we'll share what employers look for in a CV, how to describe your work experience and proofreading tips to make your CV shine.
What employers look for in a CV
Your CV is often your first and best chance to get noticed by recruiters and hiring managers. Your goal is to make it easy for them to see that you have the qualifications they're looking for.
Often, employers have several core skills that they want candidates to demonstrate. Because they may be reading through hundreds of applications, a recruiter or hiring manager might quickly scan your CV to see if those qualifications jump out.
The importance of CV keywords
It's also important to note that online job applications are often sorted through software called an applicant tracking system. This software CVs and cover letters for relevant experience, skills and other keywords so that qualified candidates are easy for employers to identify. Employers will use those same keywords when they proactively search for candidates on career portals or jobs boards. By ensuring you match your CV to what employers might be searching for, you'll increase your chances of being discovered.
Follow these guidelines to write a CV that's easy for employers to find and read:
Read job descriptions closely to identify required skills and experience. You may want to make a list of the requirements you see. Refer to this list as you're writing your CV. If you have these skills, list them prominently (more tips on this below). If you don't meet the exact requirements, list your related or similar skills. For example, if a job description asks for three to five years of experience and you have two years, write "2+ years of experience in (your job or industry)." If you don't have the required skills and experience, you may want to refine your job search to find a good match.
Use a simple format. This means leading with contact information (your name, email address, phone number and the city where you live), followed by an optional summary, your work experience, skills and education. Complicated page layouts can be hard for applicant tracking systems to handle.
Use a standard font such as Arial, Calibri or Georgia are good options. Use 10-, 11- or 12-point font.
For most CVs, it's best to keep it to two pages maximum. Carefully consider if everything you've included is necessary.
How to write your CV headline or summary (with examples)
Beginning your CV with a headline or CV summary statement (sometimes known as a CV objective) is one way to clearly callout your most relevant qualifications. This short description should quickly advertise your skill set and professional goals to any reader.
A headline is the shortest version: sum up your achievements in one line. In a summary or objective statement, you can get a little longer: one or two sentences is typically a good length.
To get started, think back on your proudest career accomplishments and what defines who you are in the workplace. Carefully read the job descriptions that you're considering. Do they require a specific certification or years of experience? Your headline is the place to let the employer know you meet these requirements.
For example, a customer service representative with a track record of customer satisfaction might write: "Customer success professional with 3+ years' experience delighting clients in the retail industry."
Similarly, an experienced dental assistant could write: "Certified dental assistant with 12+ years in direct patient care."
The above are both great examples of engaging and descriptive headlines. If you want, you can pair that with a slightly longer summary of your skills and career goals. Here are a few examples:
Example 1
Headline: Customer success professional with 3+ years' experience delighting clients in the retail industry.
Summary: Experienced in resolving client concerns via chat, email and phone; routinely recognised by management and peers for assertive and enthusiastic spirit. Excited to continue my career in ecommerce.
Example 2
Headline: Certified dental assistant with 12+ years in direct patient care.
Summary: Extensive experience in charting, scheduling, and delivering best in class customer service. Vast knowledge of clinical procedure and dental terminology. Looking for new opportunities in private dental practice.
Example 3
Headline: Aspiring financial services professional with a degree in Business Administration.
Summary: Advanced Excel and intermediate SQL skills, excellent written and verbal communication, pursuing entry-level roles in financial services.
Example 4
Headline: Graphic designer with strong experience as creative lead in an agency setting.
Summary: Mastery of Adobe Creative Cloud and familiarity with Sketch, InVision, HTML, CSS, and JavaScript.
How to write out your work experience
Once you've written your CV summary, the next section to take on is your work experience. (Note: in some cases, your education may be listed before your work experience. Today, it's more common for education to come at the end of the CV, though it depends on your industry and when you received your education. We'll cover education further down.)
Listing out your experience is not as simple as writing down everything you've done in your career. Instead, you want to only include the details of your past work that are especially relevant to the work you want to do next.
Follow the guidelines below when listing out your work experience:
Use bullet points rather than paragraphs. Writing out your experience in a list has the double benefit of using fewer words and making it easier for employers to read.
Lead with strong action verbs and follow with an accomplishment rather than a task. Employers are interested in what you've achieved, not just what you've done. What's the difference between an accomplishment and a task? Here are a few examples:
Task: Greeted customers
Accomplishment: Provided friendly and helpful service by greeting customers.
Task: Analysed marketing campaign performance
Accomplishment: Reported on ROI of marketing campaigns, improving campaign efficiency by 20%.
Task: Took patient vitals and updated charts
Accomplishment: Performed routine clinical procedures while ensuring patient comfort and updating charts via an EMR system.
Add quantifiable results whenever possible. This helps employers better understand your contributions. For example, an operations manager might write, "Identified and implemented supply chain improvements which decreased fulfilment costs by 17%." Similarly, a retail sales associate might say, "Regularly evaluated showroom inventory and refreshed displays with stock, increasing daily sales by 22%." Not every bullet point on your CV will have a quantifiable result. For everything you include, however, ask yourself if there is an applicable number that can help potential employers see your achievements clearly.
Include more details about your most recent jobs and fewer details from roles you held earlier in your career. If you have many years of experience, it's reasonable to only include information from the last 10 to 15 years. Employers are most likely to be interested in your current accomplishments.
If you can, fill employment gaps with other experiences such as education or freelance work. Did you take classes, earn any certifications or volunteer during the time you weren't formally employed? If you worked on personal projects or as a freelancer, you could put "Self-employed" where you would otherwise list an employer. The same guidelines about how to write out your accomplishments apply here, too.
What to include in the education section
These days, it's common for education to be listed at the end of your CV. Exceptions to this may be if you're applying for jobs that require specific certifications (as in the healthcare industry, for example), or if you are a recent graduate.
In the education section of your CV, list all the relevant degrees or certifications that make you qualified for this job. If you have attained a degree, list your degree type, field of study and degree classification followed by the name of your educational institution. Unless you're a recent graduate, you don't need to list your graduation date. For example:
B.A. in Geography, 2:1
University of East Anglia
If you have multiple degrees, list your highest level of education first.
If you have attended a program of study but didn't graduate, you can list the years you attended and the credits you received. For example:
University of East London
2010–2012; Completed 2 years of coursework towards a Bachelor's in Business Administration
If you are currently in a program of study, you can list the degree you're pursuing and your expected graduation date. For example:
B.S. in Computer Science, degree anticipated May 2020
Sheffield Hallam University
What to include in your skills section
In your skills section, you want to list the professional skills you have that make you qualified for the jobs you're applying for. Employers will indicate the skill sets they are looking for in their job descriptions. Look closely at the posting, and if you have the required skills be sure to list them.
In general, there are two types of skills: soft skills and hard skills. Soft skills include things like interpersonal communication, organisation, or attention to detail. Hard skills are more often tied to specific tools, software, or knowledge (speaking a foreign language, for example). Hard skills will vary by industry or job type while soft skills tend to be more universal.
You can list your skills in a single paragraph with each skill separated by a comma. Start with the skills you're most proficient in. You may choose to call out your levels of mastery, for example:
Advanced in Excel, Sage, ProSystems. Some familiarity with SAP and Checkpoint Firewalls.
Pro-tip: If you're applying for a job where a specific skill is often taken for granted, don't list it. For many jobs, one example is Microsoft Office. Instead, focus on proficiencies within that skill. For instance, instead of listing "Microsoft Office," you could list "Macros, pivot tables and vlookups" if you know how to do these things in Excel.
Proofreading your CV
After taking the time to write a great CV, you don't want typos and spelling mistakes to get in the way of submitting a winning application. Reread your CV from top to bottom and then from bottom to top, correcting mistakes as you find them. It's also a good idea to ask a friend or family member to read it for you—they will look at it with fresh eyes and may find mistakes more readily. Once you've proofread your CV, you'll be ready to apply for jobs. You can use your CV and upload it to HCP Automotive to apply for jobs quickly. If you like, you can also set your Indeed CV to public so employers can reach out to you about relevant job opportunities.
Nitaqat is a nationalisation scheme implemented by the government in Saudi Arabia which requires Saudi companies to fill up their workforce to certain levels with Saudi nationals.
In the last couple of decades, the Middle East has grown into a hub of opportunity for automotive professionals from across the globe. Locations throughout the region have developed into real recruitment hotspots that now attract a wealth of top international talent.
The policy has been introduced as a solution to the challenges that the Saudi labour market have been facing, such as high Saudi unemployment, key positions being given to foreign labour, low productivity, lack of a female workforce and challenges regarding the mismatch between the qualifications obtained and the job opportunities available.
The programme, also known as 'Saudization', aims to increase the employment of Saudi nationals in the private sector. Nitaqat uses a rating system which classifies companies into four zones: platinum, green, yellow and red.
Nitaqat requires employers in the private sector with over nine employees to hire a certain percentage of Saudi nationals, depending on the company's industry and the number of employees in the company. Companies with less than 10 employees are exempt from the zoning system but are still required to hire at least one Saudi national.
What are the new features of the revised programme?
The Saudi Ministry of Human Resources and Social Development (MHRSD) has launched a revised version of the Nitaqat programme.
The second version hopes to provide 340,000 jobs by 2024 and simplifies the compliance rules for businesses. Effective 1 December 2021, the latest version of the Nitaqat program contains three new features.
The first is a localisation plan with a clear and transparent vision for the next three years, with the aim of increasing the organisational stability of private sector institutions. This means employers will be better able to plan and recruit for their workforce, as they will not have to adjust to rapidly changing Saudization ratios without advance notice.
The second update creates a new linear formula for determining the target Saudization ratio instead of the classification of establishments to certain and fixed sizes. Categories of economic activities based on business sector will be consolidated into 32 categories. With a smaller group of economic activity categories, companies will be better able to categorise their business sector when calculating their Nitaqat tier rating.
The third update simplifies the design of the programme and improves the client experience by merging activities with similar characteristics into 32 choices instead of 85. In addition, the minimum wage level, first set at $800 (SAR3,000), was increased to $1,067 (SAR4,000) in the second quarter of 2021. This will allow the Saudization rate to increase gradually and proportionally with respect to the company's headcount, instead of rising dramatically when the company becomes subject to a larger headcount tier group (for example, going from 199 to 200 employees, with 200 being the lower threshold for a new category).
The programme was developed in partnership with public bodies and the private sector, the latter of which has been designated as a main partner in the Ministry's labour market decisions.
Upcoming changes in Saudi Arabia
As well as reforming the Nitaqat programme, the Saudi government is also considering other legislative reforms in the upcoming months, including:
Changes to the Premium Residency Card Programme, which has opened a path for retirement in Saudi Arabia; and
NEOM – a cross-border city that is expected to be built by 2025, which will connect Saudi Arabia with neighbouring countries.
In the last couple of decades, the Middle East has grown into a hub of opportunity for automotive professionals from across the globe. Locations throughout the region have developed into real recruitment hotspots that now attract a wealth of top international talent.
Alongside attractive job prospects with some of the world's top passenger car and commercial brands and well-structured dealer groups, the absence of income tax in many countries in the region also offers a real incentive to workers. The steady growth over recent years has resulted in a surge in the need for foreign labour. Those with the right skills, who are willing to make the move, could be rewarded with a highly attractive salary and benefits package.
It's worth noting that although skilled international candidates are sought after, government pressure on organisations to hire local talent has increased. Emiratisation, Qatarization, Saudization, Omanization and the like, are initiatives for organisations to employ nationals instead of expats who, now, make up a large portion of the workforce.
Demand for skilled labour
Demand for skilled labour comes from large multinationals as well as regional firms looking to increase their workforce. Attracting and retaining talent is now one of the most important strategies for these organisations to promote future success and increase shareholder value.
With the Saudi government's plan to invest over $370bn on social development and infrastructure projects to advance the Kingdom's economic development, Abu Dhabi's plans for 14 major infrastructure projects and Dubai continuing to be a hub for the growth of the region, there is plenty of demand for new skills across the Middle East. To secure the expertise that they need and to tackle the demand for skilled labour head-on, you may find that Middle East jobs offer excellent remuneration and benefits packages as well as ongoing training and development opportunities. Competition for roles may still tough though, as many candidates are spotting the business potential and enviable lifestyle that the Gulf region could offer.
An appealing option
The climate, tax incentives, career development opportunities and change of lifestyle are all appealing factors for those seeking a new challenge. For insight into what it's like making the move and working in the Middle East speak with one of our consultants, they will offer advice and guidance.
You have your job interview scheduled—congratulations! Now it's time to prepare, and we've got you covered. In this article you'll learn:
How to practise your answers to interview questions
Prepare your own questions for employers
Make a great first impression
What to bring to the interview
Tips on good manners and body language
How to win them over with your authenticity and positivity
Practise strong answers
In the days before your job interview, set aside time to do the following:
Research the company so you can go into your interview with a solid understanding of the requirements of the job and how your background makes you a great fit. Read company reviews to learn more about the company culture and what others are saying about this employer.
Prepare your answer to the common question: "Tell me about yourself, and why are you interested in this role with our company?". The idea is to quickly communicate who you are and what value you will bring to the company and the role.
Re-read the job description. You may want to print it out and begin underlining specific skills the employer is looking for. Think about examples from your past and current work that align with these requirements. Prepare to be asked about times in the past when you used a specific skill and to tell stories with a clear Situation, Task, Action and Result. Writing out a few examples before the interview can help you respond with good quality answers.
Practise! Practising your answers out loud is an incredibly effective way to prepare. Say them to yourself or ask a friend to help run through questions and answers. Ask your friend for feedback in your answers. You'll find you gain confidence as you get used to saying the words.
Prepare smart questions
Interviews are a two-way street. Employers expect you to ask questions: they want to know that you're thinking seriously about what it would be like to work there. Here are some questions you may want to consider asking your interviewers:
"Can you explain some of the day-to-day responsibilities for this job?"
"How would you describe the characteristics of someone who would succeed in this role?"
"If I were in this position, how would my performance be measured? How often?"
"What departments does this teamwork with regularly? How do these departments typically collaborate? What does that process look like?"
"What are the challenges you're currently facing in your role?"
Think about first impressions
Dress for the job you want. If you're speaking to a recruiter before the interview, you can ask them about the dress code in the workplace and choose your outfit accordingly. If you don't have someone to ask, research the company to learn what's appropriate.
Don't forget the little things. Shine your shoes, make sure your nails are clean and tidy, and check your clothes for holes, stains, pet hair and loose threads. Brush your teeth and use floss.
Plan your schedule so that you can arrive 10–15 minutes early. Map out your route to the interview location so you can be sure to arrive on time. Consider doing a trial run. If you're taking public transportation, identify a backup plan if there are delays or closures.
Pro-tip: When you arrive early, use the extra minutes to observe the workplace dynamics.
What to bring to the interview
Set aside time before your interview to get the following items together.
At least five copies of your printed CV on paper. While the hiring manager has likely seen your CV, they may not have read every line. Or you might be speaking with someone new. In either case, you might want to highlight specific accomplishments on your copy that you can discuss.
A pen and a small notebook. Prepare to take notes, but not on your smartphone or any other electronic device. Write information down so that you can refer to these details in your follow-up thank you notes. Maintain eye contact as much as possible.
A written version of the prepared questions for your interviewers.
A single bag for all your materials. It's easy to mistake nervous for disorganised, so keep all your documents in a single, multi-use messenger bag or portfolio. Make sure that it's professional and appropriate to the corporate culture as well as your own style.
Remember good manners and body language
Non-verbal communication can be just as important as anything you say in the interview.
Use confident, accessible body language. Smile frequently. Make eye contact when you're speaking. Sit or stand tall with your shoulders back. Before the interview, take a deep breath and exhale slowly. This will help you manage any feelings of anxiety and will encourage greater self-confidence.
Treat every single person you encounter with respect. This includes people on the road and in the parking lot, security personnel and front desk staff. Treat everyone you don't know as though they're the hiring manager. Even if they aren't, your potential employer might ask for their feedback.
Nail the handshake. During a job interview, the hiring manager (or person in seniority) should extend their hand first to initiate the handshake. Stand, look the person in the eye and smile. A good handshake should be firm but not crush the other person's fingers.
Send personalised thank you notes to each interviewer. You may want to ask for the business card of each person you speak with during the interview process so that you can follow up individually with a separate thank you email—if they don't have a business card, you could ask for their email address and make a note of it. If you interviewed in the morning, send your follow-up emails the same day. If you are interviewed in the afternoon, the next morning is fine. Make certain that each email is distinct from the others, using the notes you took during the conversations.
Be authentic, concise and upbeat
Respond truthfully to the questions you're asked. Tie your answers back to your skills and accomplishments by providing examples of solutions and results you've achieved. If you cannot immediately think of an appropriate answer, say "Let me think of the best example to share," pause as you collect your thoughts and then respond.
Keep your answers short and focused, making sure that you answer the question you've been asked. Your time with each interviewer is limited so be mindful of rambling. Let your interviewer lead the conversation.
Don't speak negatively about current and former employers or colleagues. Companies want to hire problem solvers who overcome tough situations. If you're feeling discouraged about your current job, focus on talking about what you've gained from that experience and what you want to do next.
The most apparent effect of inspirational leadership is the ability to motivate people into positive action. There are certain qualities about a person that enables them to have this kind of influence over other team members. Knowing what the key inspirational leader characteristics are may help you work on improving and becoming one yourself. In this article, we review what an inspirational leader is and how to become one.
Inspirational leader characteristics
Here are some inspirational leader characteristics:
Protecting the interest of others
Part of what makes a leader inspiring is their authentic care for the welfare of their team. They have measures in place to ensure teams have what they need to meet their goals. They're also willing and ready to help out a member who needs additional support.
Example: Jake's assistant, Byron, has been late for the past two days. On the third day, Jake calls Byron into his office to express his concern that Byron has been late and looks tired. Byron tells Jake that he has had to take on a night job to afford the price increase in his rent. Jake plans to review Byron's performance to find out if he's eligible for a salary increase.
Passion
Inspirational leaders are passionate. They're committed to a vision, which may encourage the rest of the team to be just as committed. They inspire this passion in others.
Example: When working towards a goal, Heather devises ways to get her team to actively engage with the vision in a fun way. For example, she installed a mini basketball hoop so that when someone meets their target, they can shoot a hoop to inform the department. Other team members then respond by cheering.
Humble
Humility allows for self-awareness. Without pride, it's easier to evaluate your actions to see where there is room for improvement. An inspirational leader who is self-aware can maintain control. They're confident of their abilities, but don't believe that they know it all.
Example: During a strategy meeting with the rest of his department, Jake was sure about his chosen strategy because it was successful in the past. Kate, one of his team members, pointed out how this project differed from the others. Jake took a moment to reflect on what Kate said and opened the meeting to discuss other strategies.
Accountable
Encouraging performance reviews from the rest of the team helps with accountability. An inspirational leader receives constructive criticism with grace. This is part of how they maintain an environment of trust.
Example: Jake recently made a decision that did not have the desired outcome for the department. Instead of dismissing it, he called a meeting to discuss what happened and apologised to the team for how it affected them.
Encouraging
To be an inspirational leader, you need to know how to encourage people. Knowing the right things to say can help your teammates feel supported and cared for. To an inspirational leader, creating this kind of supportive environment is important.
Example: Lois has a lot of deadlines approaching, which she feels is affecting her mental health. She decides to talk to Heather, who is her manager, about it. Heather is understanding and reassigns some of the work given to Lois to someone else.
Accept Responsibility
An inspirational leader is always aware of their responsibility to their team members. Because of this, they first think about what they could have done better when something unexpected happens. This is how inspirational leaders always make others feel secure, even when they make mistakes.
Example: Mike arrived at the wrong address for his interview with Heather. He had got the address online from the company website. By the time Mike arrived at the real address, he was already twenty minutes late and felt panicked. Heather assures Mike that he was not at fault for using the address on the website and that the new address would be updated as soon as possible.
What is an inspirational leader?
An inspirational leader is a person admired and respected by their team. What makes them different from traditional leaders is their unique ability to inspire their team. Inspirational leaders are generally well-liked by co-workers. They have a positive outlook and, regardless of their leadership styles, they're empathetic and always consider the needs of others.
How to become an inspirational leader
Consider these methods for practising inspirational leadership:
1. Learn from others
To become an inspirational leader, you may need to learn from one. Seek out books and videos on the subject to understand the basics. If there is someone you consider an inspirational leader in your life, study their leadership style and consider asking them to be your mentor.
Example: Moira is about to start her new role as head of sales at a boutique talent agency in Manchester. She wants to learn how to be an inspirational leader, so she watches interviews of leaders she admires and writes down quotes they say that she finds inspiring.
2. Set an example
Sharing common guidelines and goals with the people you lead can inspire them to do so too. An inspirational leader is unlikely to misuse their position of power. Instead, they set an example for others to follow.
Example: Lucy volunteers to mentor a group of secondary school children every Thursday. In the first meeting, she established some ground rules, and one of the rules was for everyone to attend the meeting on time. Lucy makes sure she arrives on time by leaving her home an hour early, even though it takes only thirty minutes to commute to the school.
3. Be open to being a mentor
People who are new to leadership roles tend to look up to inspirational leaders for guidance. An inspirational leader takes the opportunity to be a mentor to others. It's one of the ways to further your impact.
Example: Curtis recently raised a large sum of money from investors for his startup company. Because of that, he has received requests from people who are working towards similar goals. Curtis understands that he cannot mentor them separately, but he is interested in providing support. He sets up groups and meets with each group for a period of time.
4. Be innovative
Inspirational leaders often have innovative ideas. Embracing creativity and understanding that sometimes the ideas may come from your team members is one way to foster innovation in your teams. As an inspirational leader, encourage your teams to share ideas.
Example: Jacqueline is concerned about the declining click-through rate for an online magazine. She meets with the digital team to discuss the issue. Kylie, a junior staff who just joined the company, has a suggestion, which Jacqueline encourages. It turns out that Kylie's suggestion to ask the viewers what they would like to see worked really well.
5. Show gratitude
Members of a team tend to feel good about their work if they're often treated with appreciation. An inspirational leader understands this. Therefore, they make sure to express gratitude effectively to inspire their team's efforts.
Example: Kylie impressed Jacqueline with how well Kylie's idea worked, so, on the last Friday of the month, Jacqueline treats the team to a catered lunch in celebration of Kylie.
Benefits of inspirational leadership
Inspirational leadership has many benefits when practised. Some of them include:
It leads to results. Your teammates are more likely to thrive in a supportive and enabling environment. Inspirational leaders create such an environment through encouragement and by showing appreciation.
It increases loyalty. Team members are less likely to be poached by other companies in positive work environments. They may remain committed to you because they enjoy working with you.
It's fulfilling. Seeing the effect your inspiration has on other people can be satisfying. Some examples of such effects include goal-oriented employees and high staff retention.
It drives growth. When your teams believe in you, they're more willing to work towards achieving your vision. Inspirational leaders can encourage a sense of purpose that makes others work towards contributing to growth.
Video interviews are an important part of the hiring process and are becoming more popular. Understanding the specific requirements of a video interview can make you more comfortable and successful with the entire process. In this article, we explain what a video interview is, how to prepare for a video interview and how to deal with any potential problems that might occur.
What is a video interview?
A video interview takes place outside an employer's office. You and the interviewer conduct the interview by using your phone or computer and video conferencing software such as Microsoft Teams, Zoom or even FaceTime. An employer may use pre-recorded video interviews. Instead of being connected with a person, you will answer interview questions that have been pre-recorded or appear in writing on the screen. You'll record your answer to each question and the employer will review the recording later. There is often a time limit for your answers, and you may be given more than one chance to record each answer.
How to prepare for a video interview
Here are some steps that you can take to ensure your video interview runs smoothly:
1. Choose a suitable location
It's important to choose a quiet and suitable location for your video interview. You want your interviewer to focus on you, so find a place that has minimal distractions. Choose a wall with a neutral background, preferably without pictures or art behind you. Make sure you are well lit either by natural light or a nearby light source. Set up your camera so the upper third of your body is clearly visible to the interviewer.
It is extremely important that your location has a reliable internet connection. If you are worried about the internet speed in your home, you can see if your local public library has a private room you can reserve. However, it's important to avoid coffee shops and other communal spaces, even if they have superior internet.
2. Minimise interruptions
You want to do everything in your power to minimise or eliminate interruptions. Again, you want the interviewer to focus on your answers, and having a quiet and professional video setup shows your professionalism and seriousness about the job. Silence your phone, turn off your tv, stop any alarms that might go off and silence any other computer programs. If you live with other people, make sure they are aware of your interview and remind them to keep the noise level down.
Also, think about the time of day your interview is taking place. If the interview is scheduled around the time the post comes and it causes your neighbour's dog to bark, address this before the interview. Some noises may be unavoidable, but if you tell your interviewer upfront, it will be less of a distraction.
3. Dress professionally
For your video interview, dress in the same professional way you would at an in-person interview. Research the company culture before your interview, so you have a good idea of what's appropriate. To look your best on camera, avoid bright colours and patterns, and opt for softer colours instead. If you are wearing a tie, wear a solid colour rather than a patterned one. If you wear glasses, adjust the lighting in the room to reduce glare from the lenses.
Position the camera so that you are looking up slightly and centred on the screen. While it's likely that the interviewer will only see your upper half, it's still a good idea to wear professional trousers or a skirt in case you need to stand up for any reason.
4. Study your body language
You need to study and be aware of your body language before a video interview. Sometimes a video interview can feel more informal, and this mindset may negatively affect your posture. Sit in your chair with your back straight and your shoulders open. Plant your feet on the floor and rest your arms in your lap or on the desk.
Eye contact is very important during an in-person interview. To maintain eye contact during a video interview, avoid the instinct to look directly at your interviewer on the screen while you're answering a question. Instead, when you speak, you want to direct your gaze at the webcam. When you do this, your eyes are more likely to align with the interviewer's eyes on the other end. When you're listening, you can look back at the screen.
Also, whilst listening, nod and smile when appropriate to communicate that you're giving them your full attention. Use hand gestures when it feels appropriate and keep your movements close to your body. Avoid fidgeting or letting your gaze drift away from the device.
5. Review your tech setup
Review and ensure all your technology is working before the interview. First, ensure you understand the software that is being utilised for the interview. Some video conferencing programs require you to create an account before you can use the software. Make sure you have an account and that you update your software before the interview begins. You then want to check your hardware. Test your computer or phone's camera and audio. If you plan on wearing headphones during the interview, make sure they are compatible with the software you are using.
Right before your interview, check your internet connection and sign into the meeting. Just like an in-person meeting, it's a sign of professionalism to be a little early to the interview. Test your sound and video and ensure everything is in working order.
6. Do a practice call
The best way to familiarise yourself with the technology you'll be using is to have a practice call with a friend or family member. Using the software that your interviewer will use, ask a friend to give you candid feedback about your appearance and eye contact. Run through it a few times until things feel natural. This is the time to adjust your lighting, find the best camera angles and ensure your microphone picks up your voice.
You can also practice for the actual interview. Have your friend ask you a few potential interview questions. It helps to rehearse your answers as you become more comfortable with the format. You can even record your answers so you can watch yourself and see what you need to adjust.
Top Tips on succeeding in a video interview
Here are some tips that can help you succeed in a video interview:
Be honest
Be honest with your interviewer about how you feel regarding video interviews. Although video interviews are becoming more common, not everyone has a lot of experience with them. If this is your first video interview and you are feeling a little nervous, tell your interviewer. It may spark some interesting small talk at the beginning of the interview.
You should also be honest about your interview circumstances. If you know there may be potential disruptions or your internet connection is weak, be upfront about it. Your interviewer will appreciate your honesty and both of you can prepare for any potential problems.
Prepare for the unexpected
You should prepare for unexpected problems during your interview. Despite all your preparations, your technology may have problems on the day of the interview. If you feel like you may have technical problems, ask the interviewer for a phone number where you can reach them if you experience technical difficulties. If the video cuts out, call them on that number. Ask if you can continue the interview by phone or if you can reschedule.
You should also prepare for potential interruptions where you are having the interview. If an unexpected noise occurs, apologise for the interruption and ask for a few moments until the noise has subsided. Mute the microphone if the noise is severe. If a housemate or pet enters the room while you're interviewing, apologise to the interviewer, mute your microphone and turn off your camera, then deal with the interruption.
Have a pen and paper ready
You should have a pen, paper and some prepared notes during your interview. Having a copy of your CV can also be helpful, as you can refer to it when you are talking about specific examples from your previous work experience. Write important points that you want to bring up in the interview and questions you may have for the interviewer. Keep your notes out of the camera view and try not to rely on them too much. You can reference them now and then, but if you constantly look down at your notes, it may become distracting to your interviewer.
First, let's define a counteroffer: a counter is when your current employer offers to improve your remuneration, terms of employment (e.g., status) or undertake to change something such as management style following the submission of your resignation.
In many ways, a counteroffer can be very flattering – it shows your employer might value you more than you expected or that they are genuinely looking to change things for the better now that they realise you've been unhappy. However, here are some reasons why you should think twice before accepting a counteroffer:
1. Does the counteroffer address the real issues?
Whilst remuneration and status are very common reasons for someone decided to leave an employer, there are often other reasons which enter the equation. Reasons such as culture, quality of work, reputation, management style, work/life balance often factor and are sometimes more important and profound reasons for someone looking to move on. The counteroffer nearly always addresses remuneration and status, but all too seldom does it address those more profound issues (how can it?). As such, counteroffers deal with superficial reasons but not the deeply held ones.
It's for this reason that studies show that most people who accept a counteroffer end up leaving their employer in any case within 12 – 24 months. The counteroffer merely saw that you were paid more for tolerating issues which were becoming intolerable – ultimately, time catches up and those deeper set reasons for leaving come to the fore again.
2. In whose best interest is the counteroffer made?
Whilst you are valuable to your firm in so many ways, you are also a profit centre – harsh, but true. Your resignation has a negative financial impact on your employer in terms of lost fee income and the cost to replace you. Furthermore, your resignation may hurt your Line Manager in terms of their career development – it may impede them from hitting their target, it may show that they have a problem with staff retention. So, whilst there may well be some valid and noble reasons for counteroffers, given the above, ask yourself if the counteroffer is being made in your best interest or in the best interest of your Line Manager and your firm?
3. Is the counter offer you're getting just an early pay rise?
Let's say you earn £60,000 and you resign 5 months prior to pay review. Let's say you were offered £63,000 by your potential new employer and that a counteroffer comes in at £65,000. Is it realistic to expect that you will get a further rise in 5 months' time when salary review comes around? If not, you may have sacrificed an opportunity to move to a firm whose offer was good enough to make you resign for an extra £166 a month before tax. If the suitor's offer ticked all the boxes in terms of the non-financial aspects, then one must question if it was worth accepting the counteroffer.
4. Your cards may be marked.
No one likes having a gun put to their head. In some ways, your resignation, if you do accept a counteroffer, is putting a gun to your Line Manager's head (metaphorically speaking!). So, if a situation like a promotion or a round of redundancies were to come up and you are being compared to peers who did not resign and have remained loyal, they may be viewed more favourably due to their perceived loyalty.
5. You were being deliberately underpaid.
If your employer can afford to offer you improved terms following your resignation, they could afford to do so beforehand; they just chose not to do so and, in that light, you were being deliberately underpaid. Now one could say "So what? The situation has been remedied now." However, it might be worth questioning what kind of employer you have if it takes your resignation to get the remuneration you merited.
6. They are buying time.
This takes us back to the first point. Opinions and surveys vary, but something like 75% of people who accept a counteroffer ends up leaving anyway within 18 months (Why? Because the counteroffer did not address the deep-seated reasons for your original resignation). Your Line Manager may know this; HR will almost certainly know this. Many counteroffers are made in the full knowledge that you will leave soon, it simply buys your employers time to build a contingency plan for when that happens.
So, what should you do?
Plan your resignation – plan what you are going to say, keep it simple and do not let the resignation become emotionally charged or a forum for recriminations. Plan so that you cannot be derailed from your intended course.
Most importantly, get it clear in your own mind why you are leaving and recognise that many of those reasons will not be rectified by a counteroffer (perhaps it's quality of work, or the firm's standing, or management style). Also, clarify which positive aspects of the firm you are joining really resonate with you and make you feel good about moving on. It might be an idea to write these down and keeping the document.
The reasons for you leaving maybe like gaping wounds; a counteroffer is merely a sticking plaster used to cover them up when what is really needed is surgery!
In the final analysis, the cold truth is that counteroffers are not about you. They may be about your current employer protecting the revenue they gain from you; they may be about your firm not wanting to hand an advantage to a competitor; they may be about your Line Manager's professional and personal needs, but they are probably not about you and your career development.
If you need a helping hand when resigning, then speak to your consultant at HCP Automotive to help and guidance when the time comes for you to move onto your new opportunity.
Porsche is taking on responsibility for future generations. As early as 2030, more than 80 per cent of the sports car manufacturer's vehicles are to be offered with an electric motor.
Sustainability is firmly anchored in the company's strategy as a basic principle: "As a car manufacturer, Porsche aims to achieve a carbon-neutral balance sheet overall by 2030. This means that a low carbon footprint, closed-loop recycling and sustainability are increasingly becoming the prime focus," says Michael Steiner, Member of the Executive Board for Research and Development at Porsche AG.
Over the next ten years, Porsche will invest more than one billion euros in decarbonisation through the use of wind turbines, solar energy and other measures to protect the environment. Investments are also being made in the sustainability of the vehicles themselves. The batteries used in models that are fully or partially powered by electricity as well as eFuels for vehicles with combustion engines play key roles in sustainable mobility:
The battery cell is the combustion chamber of the future. Even today, high-performance cells for the Taycan are being produced using renewable energy sources. The suppliers have also committed themselves to doing this. In mid-2021, Porsche announced the next step: together with its joint venture partner Customcells, the company is to start production of high-performance battery cells.
eFuels are synthetic fuels produced, using renewable energy, from hydrogen and captured carbon dioxide. With the eFuel-based Esso Renewable Racing Fuel, which is to be used during the Porsche Mobil 1 Supercup season in 2022, a reduction in CO2 emissions of up to 85 per cent is possible, if it complies with the current fuel standard after the blending required for this purpose.
Powerful lithium-ion batteries with silicon anodes
Porsche is at the forefront of the development of high-performance batteries. The company is investing a high double-digit million euro amount in the new Cellforce Group GmbH. Cellforce's production facility is scheduled to go into operation in 2024 with an initial annual capacity of at least 100 MWh and will produce batteries for around 1,000 motorsport and high-performance vehicles.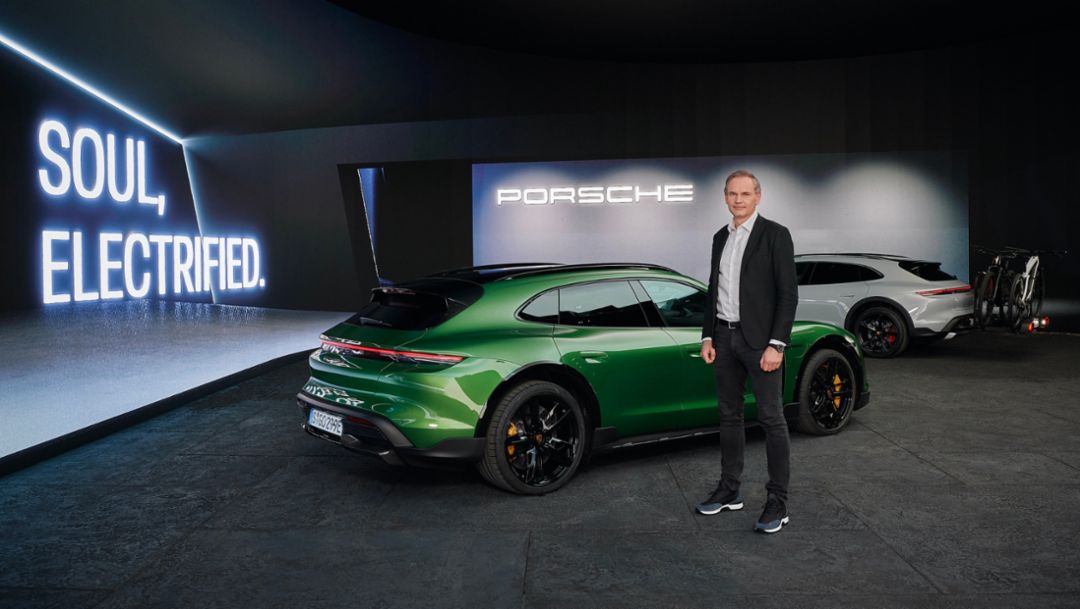 Porsche aims for CO2-neutral balance sheet in 2030
In 2030, the company wants to have a CO2-neutral balance sheet across the entire value chain. more
Over the next ten years, Porsche will invest more than one billion euros in decarbonisation through the use of wind turbines, solar energy and other measures to protect the environment. Investments are also being made in the sustainability of the vehicles themselves. The batteries used in models that are fully or partially powered by electricity as well as eFuels for vehicles with combustion engines play key roles in sustainable mobility:
The battery cell is the combustion chamber of the future. Even today, high-performance cells for the Taycan are being produced using renewable energy sources. The suppliers have also committed themselves to doing this. In mid-2021, Porsche announced the next step: together with its joint venture partner Customcells, the company is to start production of high-performance battery cells.
eFuels are synthetic fuels produced, using renewable energy, from hydrogen and captured carbon dioxide. With the eFuel-based Esso Renewable Racing Fuel, which is to be used during the Porsche Mobil 1 Supercup season in 2022, a reduction in CO2 emissions of up to 85 per cent is possible, if it complies with the current fuel standard after the blending required for this purpose.

Powerful lithium-ion batteries with silicon anodes
Porsche is at the forefront of the development of high-performance batteries. The company is investing a high double-digit million euro amount in the new Cellforce Group GmbH. Cellforce's production facility is scheduled to go into operation in 2024 with an initial annual capacity of at least 100 MWh and will produce batteries for around 1,000 motorsport and high-performance vehicles.
Porsche invests in a factory for high-performance battery cells
The latest step in the electric strategy: Porsche is investing a high double-digit million amount in the new company Cellforce Group GmbH.more
The chemistry of the new high-performance cells is based on silicon as the anode material, which makes it possible to significantly increase the energy density compared with current standard batteries. This means that the battery can be more compact with the same energy content. The new chemistry also reduces the internal resistance of the battery, which allows it to absorb more energy during recuperation. Fast charging can also be carried out more efficiently. Another special feature of the Cellforce battery cell is that it will be better able to tolerate high temperatures. These are all qualities that are of utmost importance in motorsports.
BASF, the world's leading chemical company, will be a cell development partner for the next generation of lithium-ion batteries. As part of the collaboration, BASF is to be the exclusive supplier of high-energy HEDTM NCM cathode materials for high-performance cells that provide fast charging and high energy density. BASF's production facilities for precursor cathode active materials in Harjavalta, Finland, and for cathode active materials in Schwarzheide, Brandenburg, Germany, will enable BASF to provide battery materials with a low carbon footprint from 2022 onwards that will set standards for the industry to follow.
The production waste from the Cellforce Group's future battery production facility will be recycled at BASF's prototype battery recycling plant in Schwarzheide, thereby closing the loop. Lithium, nickel, cobalt and manganese will be recycled in a hydrometallurgical process and re-introduced into BASF's production process for cathode active materials.
Development of eFuels with significantly reduced CO2 emissions
ExxonMobil and Porsche are testing synthetic fuels in motorsports. During the Porsche Mobil 1 Supercup, all the new 911 GT3 Cup racing cars have been running on a mainly bio-based Esso Renewable Racing Fuel blend prepared by ExxonMobil since the start of the 2021 season. In the course of the 2022 season, eFuels produced from hydrogen and captured carbon dioxide will then be used. Porsche and ExxonMobil are using the international one-make series to demonstrate the suitability of renewable, synthetic fuels under the toughest racing conditions. In addition, the intention is to use the experience the companies have gained for the joint development of fuels in the future.